Yeap, I finally got myself a lappy for my 6 year study trip down under.? It's black, sleek and sexy and?I'll let the pictures speak for themselves…

The lid is composed of a magnesium alloy.? I'm not sure what that means but it looks like sexy stuff, no?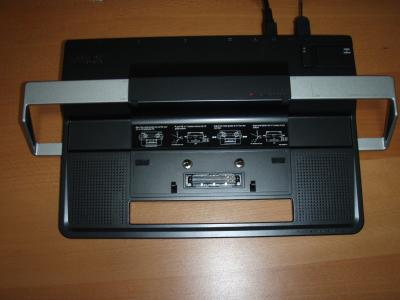 It comes with this thing called a dock.? Provincial me has never heard of anything like that before so I think it's a fantastic idea!? You get extra ports at the back for better connectivity.? So let's say my laptop already has 4 USB ports, this dock has an additional four which means I get 8 USB ports!? Very cool.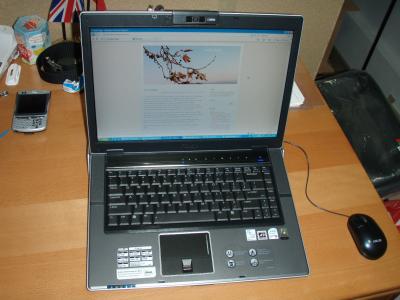 And here it is in its full glory.? It came with that cute optical mouse you see on the right hand side too.
So there it is.? My beautiful new lappy – an Asus V1Jp.? This is such a new model that the Asus Singapore website doesn't even carry it yet.? Just in case you're wondering, the specs are great:
Intel Core 2 Duo T7200 (2.0GHz)
2 GB RAM
120 GB Hdd
ATI Mobility Radeon X1700 (512 MB)? <- GAMING!!!!!
15.4″ Widescreen display (It's glossy too so colours come out really nicely)
1.3 MPixel camera (This one is attached to the top, which is such a cool feature)
Yeah, so basically those are the specs.? I got the whole deal for just $3400.? Did I mention that it comes with an additional battery??

? But the important thing is that it's sooooooo preeeeetty!!!?