i woke up this morning to the sound of my handphone vibrating. Although it was 6.28am and my eyelids felt like lead, I had a feeling it was ty. So i struggled to get up and?read the text message (nevermind that I was only half awake and quite blind w/o my glasses). And I was right, it was Ty! And after miraculously wording a?reply in perfect spelling, I dropped back to sleep with the phone in my hand…and didnt wake up till 9am.

?By 10.30am, we were out of the house, all decked out in our Chinese New year finery and ready to start the visiting. After the second stop, which was at my paternal grandpa's place, I was already yawning…And it wasnt even 1pm yet….Must be the lack of sleep…We visited 5 places today and got home at around 5.30pm. I was beat….but still managed to spare 10 min to count my 'ang pao' collections for the day. $450 today!! Not too bad for the first round.

There's still 2nd round tonight and of course 3rd round tomorrow. I love new year. But then again I have to save $$ to visit Ty in April and Sep.
I'm so excited to go over in April! The initial pain of separation has subsided…simply because we both know that it is temporary. And a separation means there's a reunion! Plus he's showing me these lovely pictures of sydney and he's calling me to tell me about the things he sees over there. I've already booked my ticket to go over in early April and I'm just counting down the days! Btw, I forgot to mention about the lovely blue roses he gave me on Valentine's day, just before he left. Last year, he gave me 6 pink roses plus 1 blue rose, right in the middle of the bouquet. Apparently he had already ordered 6 pink roses but cos it was our first Valentine's day, he wasnt sure which colour roses I liked. And when he asked and I told him blue, he went on a last min mad rush to try to get one. Haha, he told me the threatned the florist…so that's the story of the single blue rose.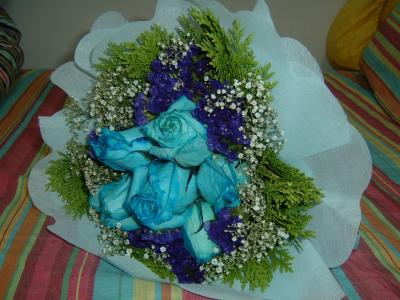 ?????????????????? Aren't they pretty!!