I'm terribly sorry I haven't been able to post the pictures of downtown Sydney earlier but I've been so busy with orientation and stuff.? But I think orientation for me at least is starting to wind down quite a bit so I'll probably have more time to post.? I'd like to also?note that the internet connection at the lodge isn't the best so it's quite hard for me to get all the pictures up at once.? Nevertheless, here they are.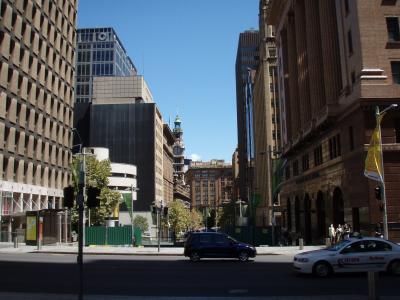 So this is how downtown looks like when you step out of the train…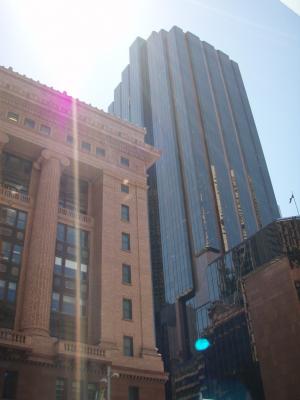 Downtown's got this interesting mix of old colonial buildings and massive glass skyscrapers.? Very cool.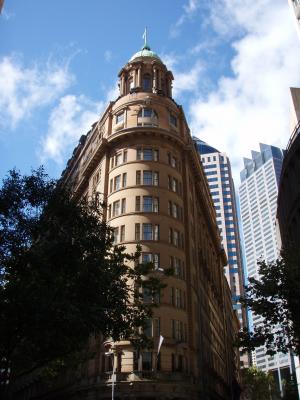 It's got interesting architecture…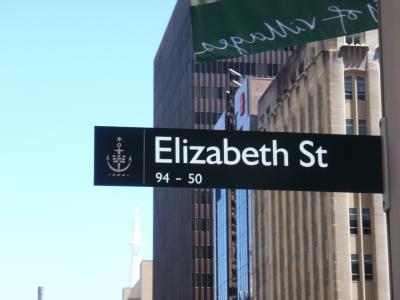 …and a beautiful piece of home…
Anyway, so after shopping for a while in the CBD (window shopping, things are way too ex) and the main shopping strip (Pitt Street), I headed over to the Sydney harbour place, whatever it's called, the place with the opera house, and I took these wonderful pics from "The Rocks".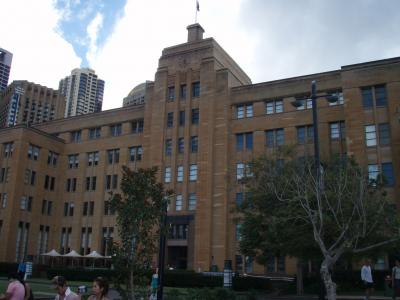 A museum of sorts…? I really don't know what it is, but it looks pretty…
There was this really interesting speed boat ride where the driver did these very cool drifts that sent water splashing all over.? We all got wet but it was great fun.? The cool thing was that the water evaporated almost immediately so we weren't wet for long.? Nice dry hot weather it was.? Anyway the speedboat ride was probably the highlight of the day, it was extremely informative (Russell Crowe's house costs a bomb but totally sucks, yeap, I saw it), and the guide was just so funny.? They really do the humour thing here well.? I'd highly recommend the ride to everyone, it's $55 but worth every cent.? Unfortunately I wasn't allowed to bring my camera on board so I couldn't snap any pictures.? Fortuntely, though, I did manage to snap more pictures from the opera house side.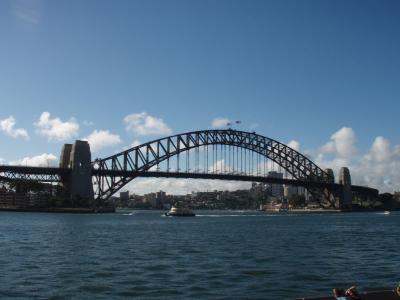 I got the harbour bridge on camera!? Really pretty looking thing.? There are people at the top.? Wave at them and they wave back.
We also took some pictures of this park that's right beside the opera house.? I'm not too sure how it's like inside because I didn't get a chance to get in, but from the outside it looks sweet…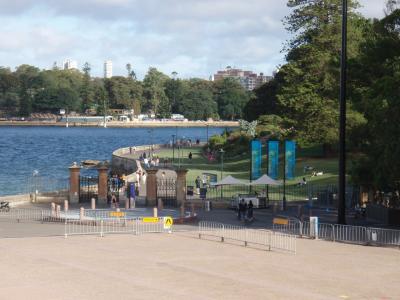 People lying on the grass…? You don't see this in Singapore…? Notice that the grass is mildly greener…
On the way to the opera house we heard this group of jazz musicians playing some really nice music at the opera house cafe.? They were really really really good and I loved them so much I took this pic…
So that's the end of my deluge of pictures.? I'll probably be posting less pictures now that school has started a little bit and I don't have too many chances to take nice pictures.? I'll still be doing updates regularly, of course, hopefully.? I just got the time table, it doesn't look TOO bad…