Its 9.00 am aussie time and I'm writing ths?blog?from Ty's comp. I?touched down in Sydney at about 5.19am, 2 hours ahead of Singapore. The 7.5 hour flight was exhausting and not to mention the time passed excrutiatingly slow. Evertime I looked at my watch (which was like 30 plus times?) only 15 min had gone by. It didn't help that the flight was delayed by almost half an hour at Singapore. However, the plane still arrived relatively on time; only about 10 min late. Then there was the long queue at the customs and an even longer wait for my luggage. After getting my luggage, there was still the luggage check. Thank goodness I took Ty's advice "Just delcare something, anything! The Declare queue is always shorter. " So I dutifully packed this small plastic bag of 'kiam seng tee' which I was more than prepared to have confiscated, and declared that I had some food with me.
Immediately, as Ty said, I was ushered?from the main queue (which was?like damn long)?to a separate counter.?I handed over my preserved fruit and the lady at the customs scrutinised and prodded it with her gloved fingers.?After which she did a quick check of my hand carry bag and concurrently kept asking me repetitive questions like "Is this bag yours? So this bag belongs to you? And you packed this bag? So you know whats in this bag?" I felt like an idiot answering "yes" four times in?a row.?Haha i was mildly irritated but oh well, I suppose she's just doing her job.
I cleared the luggage check in 3 min flat. It was 6.20am and I was getting anxious, cos Ty had to go to his assigned hospital which was 2.5 hrs away from his place, this very morning. That meant he had to?fetch me and deposit me at his place before rushing off to the hospital. I certainly didn't want him to be late. ?I was in a slight daze when I came out of customs and saw a sea of faces… I called Ty immediately and when he picked up and said "I see you", I was so relieved. Then I saw him walking towards me with a bunch of 10 champagne roses. Yup that was how we met again..after 6 weeks. I just held him tight and for moments I was so overwhelmed at seeing him again that I couldn't seem to speak.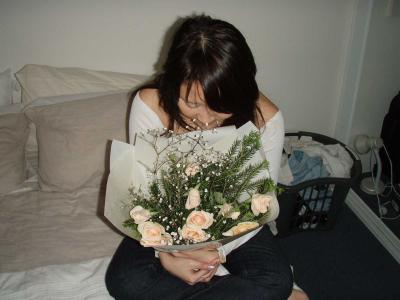 ??????????????????????????????????????????????????????????????????????????????????????????????????????????????? Pretty Roses!!
We took a cab back to his place and man was it expensive! It was like $25 aussie dollars! And his trip to the airport cost him $27, so in total just for today, he spent $52 on taxi fare. Geez and we complain about taxi fares being expensive in Singapore!! Even with the booking fee it doesn't even?come close to?the rates here! And the journey was like for 15 min only?
Anyway, he's already off to the hospital and I have the whole house to myself. Yay! Its a pretty nice apartment! Very cosy and comfy. I've just had a nice hot shower so will prob crawl into bed now…haven't had much sleep in the plane and my biological clock is still tuned to Singapore time, which is?only 7.30am…plus its raining and I don't have to work today…