I'm sure we all get some sort of blues when we come back from a long holiday…especially so when you have to go back to work/school after like 10 days of waking up late and having fun. For me, its worst cos that means I won't get to see Ty till July. Thats like another 10 weeks…and 6 weeks was almost unbearable… Anyway, enough of the whining…all holidays have to end and having a separation means that there will be a reunion some time soon! =) I'm really eager to blog the last 10 days in Sydney! I had wanted to blog as we went along but there was just no time! Well, thats probably because we spend every single moment together…
I'll start with my?flight back,?and work backwards from there. Will also try to put some pics up. Speaking of yesterday, it was really quite a stressful day for me at the airport. My flight was at 3.30pm and I was at the Sydney airport at like 1.50pm. And i proceeded immediately to check-in. Imagine what a shock I had when the lady at the counter told me that the flight was fully booked and that I may not get a seat on it. I had to wait till the airline released some seats. So we waited (thank goodness Ty was there to calm me down…I'm such a kan cheong spider..) anxiously till like 3pm before there were some seats being released. I was immediately issued a ticket and asked to proceed to the gate, which was closing in 15 min. I didn't even have time to say goodbye properly to Ty…:( Just a quick hug and kiss and I had to run.
Only when I boarded the plane, did I realize that I was given a Business Class seat. And the minute I sank down in the plush spacious seat, relieved that I didn't miss the flight, a stewardess offered me a newspaper. And 2 minutes later, a steward came round to offer me drinks. Man…that was sure worth all that panic. haha. And for the first time that I took a long flight, I actually felt very comfortable…the seat was HUGE and so nicely inclined…and every passenger was able to move to and from his seat without any obstruction. I was literally able to stretch out all the way. For dinner, the steward came around to take orders. I had a nice starters of king prawns, followed by the main, which was chicken and baked potatoes and a yummy huge slice of some red bean cheesecake with whipped cream for dessert. Not to mention there were chocs and tea. I was stuffed totally.
However, I was interrupted while I was happily gorging on my cheesecake….the lady beside me somehow smashed her wineglass by accident and it splintered all over me…great…just when I was thinking the bad luck from the "no seat panic" was starting to turn into "biz class" good luck. haha. Maybe Friday the 13th spilt over to the 14th.. Still, it was a pleasant journey and i watched 3 movies in a row to distract myself from thinking too much… I reached home at about 10.15pm. It was good to see my family again though.

???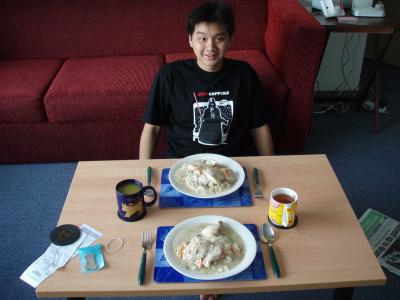 ????????????????????????????????????????????????????????????????????????????????????????????????????????????????? Ty cooked lunch! This yummy meal of chicken stew on rice.

???????????????????????????????????????????????????????????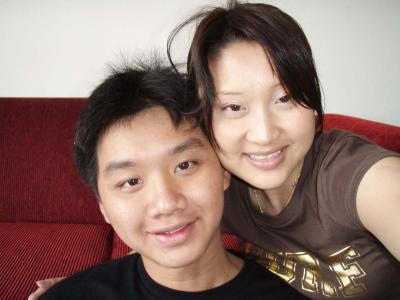 ????????????????????????????????????????????????????????????????????????????????????????????????????????????? Contented tummies…