8th-9th April – I woke up on a very bright Sunday morning and expected it to be like 9 or 10 but it was only 7 am plus. Ty was still asleep so I slipped as quietly as I could out of the room. It was a cold morning and after washing up, I sat in the hall, curled up on the sofa,?with a hot cup of tea. It was so quiet and I was just looking out of the windows at the neighbourhood….such a sleepy and quaint neighbourhood and all around, the houses were low-rise and constructed with bricks. There was just something surreal about it. Maybe it's cos I'm so used to the hustle and bustle of Singapore and Randwick just had this old-fashion charm which appealed so much to me. Plus the fact that Ty was here…and would be for a long time…it seemed clear to me that?my earlier dilemma about coming to Sydney to work was already resolved.
Ty was up 10 min later and like every morning since I was here, cooked breakfast for me.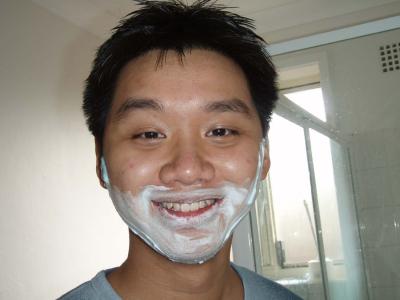 ?
Ahhh…about time he shaved..must be all that nagging…
We headed out in the late morning and went to Paddys Market, which had lots of fresh veg and fruits. I got some really good dried apricots and Ty bought a bag of nougats. Yum. We walked on to Chinatown and it was just this small stretch of chinese shops and?restaurants with neon lights and expensive stuff. Haha.
We?strolled on to Darling Harbour. We just stood there at the edge, holding hands, staring out at the water, with the sun on our faces and seagulls flying all around. There were just so many things on my mind at that point in time. Are we going to continue like this for the next 6 years, with only fleeting moments like these spent together? Are we going to be satisfied with long distance calls, web cam sessions?and occasional visits? Do we want to be missing so much in each others' lives? Maybe because time would always be short for us, at least while we're worlds apart, that moment just froze in time and all my emotions felt magnified.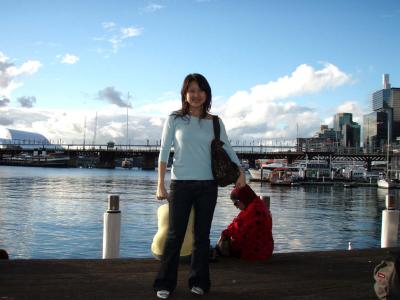 ???????????? Darling Harbour on a lazy Sunday.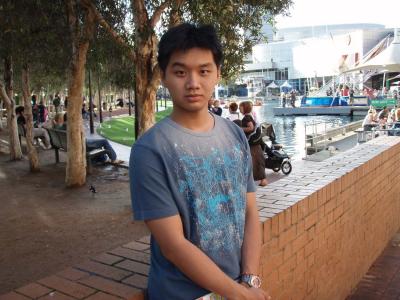 ???????????????????????????? Reluctant shot….
We were just in time to catch the show at the outback centre. It was a musical presentation in which Ty fell in love with the didgeridoo, this wind instrument used by the aboriginal people. Yeah he bought a CD which we played that night at Danny's place. Danny had cooked Bah Kut Teh and invited all of us over to his place for dinner. That was the first Chinese dinner I had since I came to Sydney. Haha. Anyway, Ty fell sick that night….probably got my germs…oops. As expected, Monday was a stay-home day for us. Recuperation…with lots of water, redoxin, sleep and Scrubs…..we were?very disciplined?for most part of the day…but at dinner, we cooked brandy chicken and had fettucini! Think we emptied half?the bottle…oops.