Its been almost a month since I left for Sydney and I haven't gotten the time to finish up on what we did for that 10 days….partly because I've been so caught up in my research on how to get a job in Sydney. Not to mention most of my spare time is spent on tuition and my auctions….gotta slog real hard to get the $$ to visit Ty again in Sep.

Anyway,?I shall?pick up where?I left off….
10th-11th April – I woke up in a panic on Tues morning. It was so bright I thought we had slept till late morning. You see, I had an important meeting that morning at 10am. I was to meet this guy from a real estate recruitment agency to discuss my opportunities of getting a job in Sydney. My panic was uncalled for..it was only 7.45am.
I was seated at their office at Pitt Street by 9.30am. Ty would be loitering around town till I was?done. This recruitment consultant turned out to be a young chap called Nick. I had a pretty comprehensive discussion with him on what are my chances of getting sponsored and just learning more about the real estate industry in Sydney. I left his office?with mixed feelings…I gathered from the conversation that it wasn't exactly a no hope situation…nor was it an easy task. I didn't want that to spoil my day, especially when we're doing the bridge climb that afternoon.
By the time we finished lunch and?walked to?Circular Quay, it was 12.30pm. The climb was at 2pm and I intended to be there at 1.45pm. Now the bridge and the Sydney Opera House were located on opposite ends of Circular Quay and the distance apart didn't look too far. Ty convinced me that we could make it to the Opera House and back to the bridge by 1.45pm….We ended up in a mad rush because the bridge was further than it looked…and we just couldn't seem to find the elusive bridgeclimb office… We made it 2pm on the?dot…all hot, bothered and sweaty.?Alright, at least I was bothered and irritated, being the 'kan cheong' spider…??haha. ?And Ty was cool as a cucumber.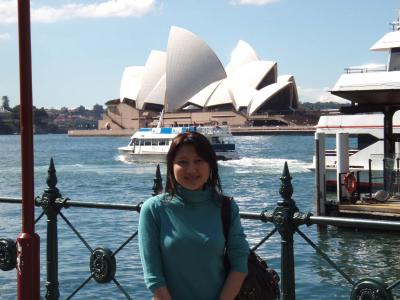 Sydney Opera House!! Finally saw it again after 12 years…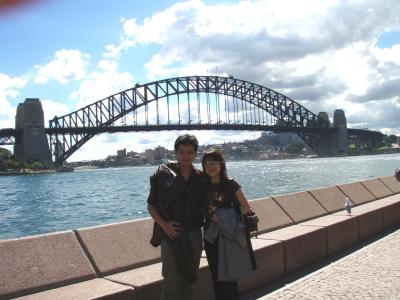 Sydney Harbour Bridge – Phew thank goodness I brought a change of clothes…such a warm day!
After an hour going through all the safety procedures and?getting into the assigned gear, we were ready to set off. Ty really liked the outfit;?he claimed it looked like some pilot's?uniform. I must say I was really impressed with the professionalism of the staff and the?efforts made to ensure the highest standards of safety. All of us were attached to a metal railing that runs along the entire bridge route, via?some sort of?metal ball bearing. The climb itself wasn't as strenuous as I expected but the standing for 3 hours did take a toil on my legs, which felt kinda wobbly…Even salsa-ing for 3 hours is not that bad. haha. Overall the view from the top was spectacular and having Ty with me just made it even more memorable.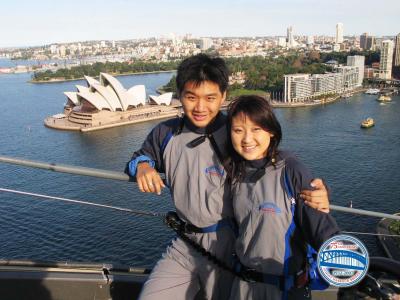 View from the top! Check out the pilot suits…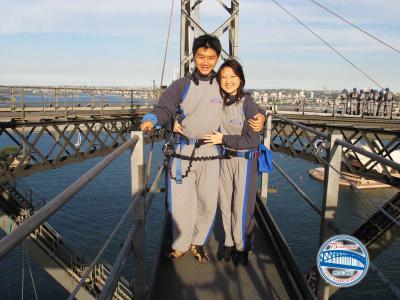 Across the centre of the bridge!
We were done by about 6pm and all that exercise sure led to growling stomachs…so we headed for dinner at the Pancake place. We has some really good seafood/ potato crepes, followed by dessert which was crepes with cream cheese, ice cream and strawberries. We were so stuffed that even after we left the restaurant, we had to sit down at a bench by the road after walking for less than 5 minutes…and we stoned…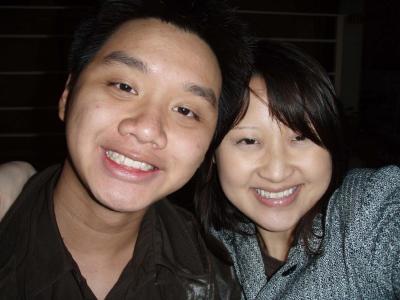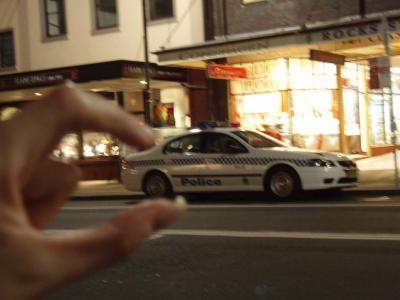 We were bored…..
We were supposed to go to Establishment to salsa but Ty was still sick and we were both exhausted after the climb….so we ended up going back for an early night…
Wed was a shopping day! We headed down to Bondi Junction in the afternoon with Ty's friends and must say I was really pleased that I got some good buys! 2 pairs of capris at FOX cost me only $30 aussie cos they were having some mid season sale.? I got this cute hoodie jacket (very useful when it rains..) for only $10 and this cowgirl looking red bag that cost $9.90. Ty bought some more cook books (to cook for me…) and this star wars T-shirt which he was going goo goo gaga over…it had a pic of Darth Vader with a speech bubble that said "Sith happens". Yup that cost $10 too.
We checked out this Chinese restaurant at Kingsford for dinner and had a pretty decent meal! The food was good and the portions were huge!! Plus the price was reasonable. 3 of us (plus Ty's pal, Nick) actually struggled to finish 3 dishes…cos the portions were gigantic. With a full stomach and great company, the cold night walk back seem shorter than usual.