Its good to be able to write again. Lately things have been moving so fast that I hardly had the time to sit down and pen my thoughts. I left for Sydney on the evening of 14 Sep, after rushing through a hectic half day at work trying to finish as much as possible and do a proper handover to my colleague.?Plus, I?had to rush to finish packing all my stuff, as my family would be moving house when I was away. Its kinda weird to leave home and come back after 2 weeks to a new home. Anyways, we're putting up at a rented place till our new place is ready.
The two weeks in Sydney flew by…as happy times always do…but it?gave?us?precious moments where?it was just the 2 of us in our own world. We were so aware that the clock was ticking, that every moment had to be cherished. It made every emotion twice as intense and every action twice as meaningful.
There were days when we would just laze at home, cheonging Battlestar Galactica (I never knew I was into Sci-Fi shows until this one blew me away) and Ty would cook up a storm.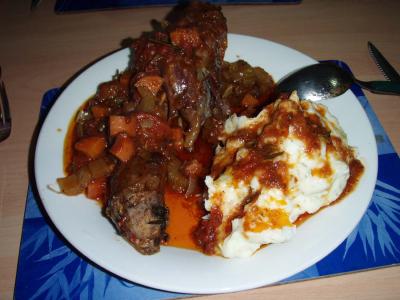 Super yummy lamb shank! It simmered in the oven for over an hour and simply melts in your mouth! Ty adapted from one of Jamie Oliver's recipes.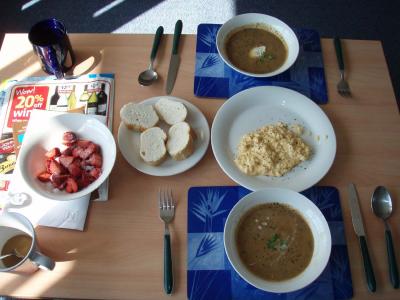 ?
No better way to start a day with?a hearty breakfast! Cream of mushroom soup, fresh bread, scrambled eggs and strawberries with sugar. Yummy!!
We managed to visit Hunter Valley this time round and we drove his trusty little 20 yr old Mazda (I call it a SIMS car cos it really looked like the one in the game..sounded better than Ty's nickname for it – Old Shit) for almost 3 hours to arrive at Sydney's popular wine region at 1 pm.??The little vintage endured Ty's speeding of 130km/hr, uneven roads, gravel tracks and many many slopes.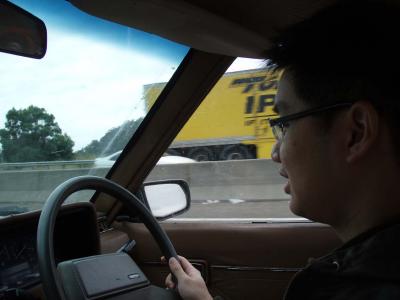 Man behind the wheel.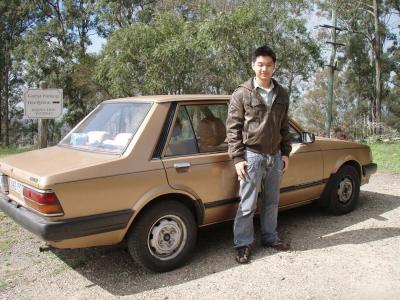 The vintage aka Old Shit aka SIMS car
We stayed at this quaint guest house called "Hilltop Guest House" cos its right at the top of a hill and has great views overlooking Hunter Valley.
Wedding arches!! Apparently many couples get hitched there.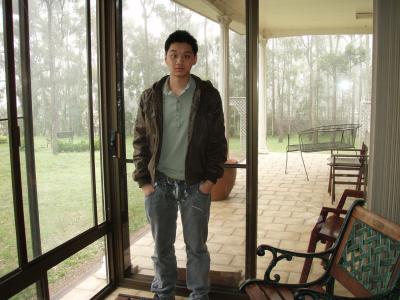 Misty morning at our little back porch at Hilltop.???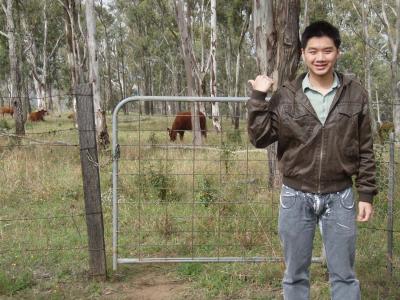 Ty : FOOD!! Yummy Steak….
It was pure indulgence…we went for wine tours, wine tasting and we bought 12 bottles of booze, chocs and cheese. Ty bought this liquor called "Dragon's Breath". Can't remember what its made up of but it definitely had chillies floating in it and it does burn a trail down your throat as the name suggests.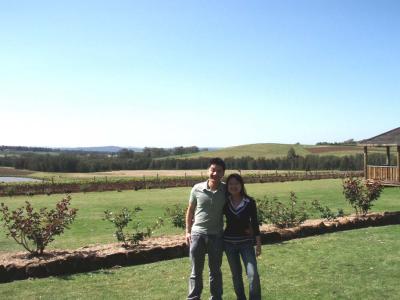 The Golden Grapes Estate where Ty bought the "Dragon's Breath" and I bought my White choc liquer.
And on our third?morning at Hunter Valley, we went horse riding!! I was expecting a more spirited horse but they gave me a horse that was in the words of the horsekeeper "A charming elderly that would be equivalent of a 74 yr old gentleman". I suppose that was because of my size. I might not have been able to?control?a bigger or stronger?horse. We were taught how to control the horses, how to?make them turn, move or stop. The fine weather and?breathtaking countryside scenery made me so relaxed, I actually sang to the horse….hmm at least?I know he can't protest.

After our road trip to Hunter Valley, we decided to stay in Sydney for the rest of my trip. The weather was getting warmer as Spring set in, so much so that it was warm enough to hit the beaches. Our first beach stop was beautiful Bondi beach where topless women and washboard-tummy surfers were aplenty. But of course I only have eyes for Ty.

?We visited Coogee Beach the next day. It was?nearer to?Ty's place, more quiet but just as beautiful. So after 2 days of conscientious sun-tanning, we were looking more bronzy.

Unlike my last trip, this trip saw us dancing much more. For 2 weeks, we went to the Establishment which had Salsa nights every Sunday. I must say the standard of the average dancer there is pretty good! Just last saturday, Sydney was having its Latin Fiesta?at the Darling Harbour area,?which was a 3 day event spanning Fri to Sun and there were performances, workshops,?live bands?and?carnival style stalls.?We only went on Sat and the highlight of the night was a string of performances, many of which were by Oliver and Luda. Its amazing seeing this dynamic couple in the flesh. We managed to record down almost all the performances but cos we were quite far, we didn't manage to get a very good view. All the performances were really good! Very synchronized and smooth. There were many really nice moves and stunts which we liked.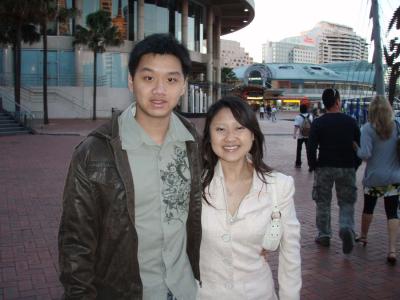 At the Latin Fiesta at Darling Harbour
And that was how the 2 weeks flew by….we would have to wait for another 8 weeks before Ty comes back. At least he would be staying for almost 3 mths this time round.