It seemed like just yesterday that I travelled to Sydney on my own for the very first time…and now I've done that 4 times….and managed to smuggle in some chilli spices and curry paste for Ty. When I arrived at 10am on 25 Sep, it was a Thurs morning and Ty had tutorials till 12pm, so I was prepared to wait out. Still I had a gut feeling that it would not be so…and true enough when i cleared customs and exited, I scanned the sea of faces and I was not disappointed. He came forward with this bouquet of pink roses (this has happened 4 times everytime I visit him) and a huge pack of Malteses…it never fails to touch my heart…these little gestures.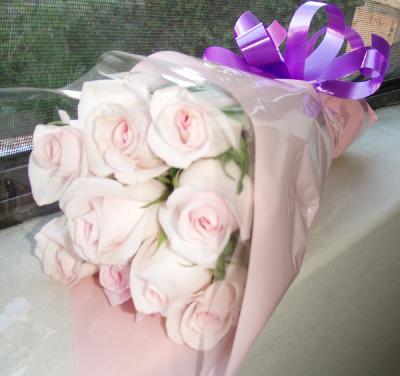 We went shopping that very afternoon. And I had a total damage of almost $200…oh well I'm on holiday. Still, Ty had an amazing well of patience for me…i literally had him weaving through those racks and racks of clothes with me. On Friday night, we went to see this play by his Med Society…a show of support for his 'housemate' who was one of the directors for the play. It was nice to meet his friends and finally put faces to names that I hear him saying all the time. I must say though that I kinda felt a little out of place….they were all young and vibrant and bubbly…and I couldnt help but feel a little jaded…I suppose when you start working it kinda has that effect on you. Plus with all that depressing news about the oncoming global recession…means my chances of getting a job in Sydney were slipping away by the minute. Depressing news aside… We headed for Nelson Bay (again) for 4 days, since we didn't really had a chance to explore it when we went there in March cos our car broke down.
The weather was awesome. We stayed at the same place as we did in March…this cosy bed and breakfast place that had a private jacuzzi. We went for a dinner cruise that night and Ty ate so much he felt like puking…he said he had to eat his money's worth of food (it was a buffet)…I was appalled. (-_-)' It was a lovely night and we had dolphins swimming alongside the boat…too bad we forgot to bring our cam. We did however, managed to get some shots when we went whale watching the next day.
We were so thrilled when we saw the whales flapping their tails…and some people on the boat gushed that they were waving at us….then this whale expert on board the boat set us straight…Apparently when the females don't want to mate with a particular male that approaches her, she slaps her tail (ahem.. the 'waving' at us part) to warn him to stay away.
We had dinner that night at Hog's Breath, where Ty tucked into his avocado steak and I had some lamb. We washed it down with some good old alcohol.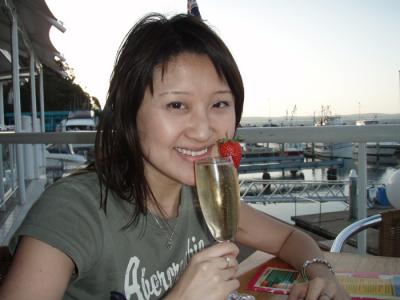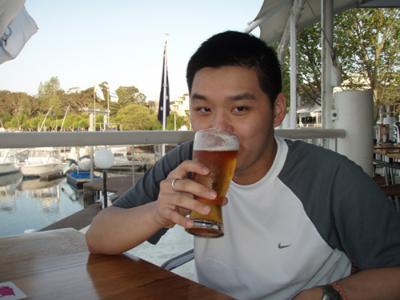 Our third day at Nelson Bay was a truly lazy one…we took a 45min morning ferry across to the Tea Gardens. Now we heard the locals there saying that we have to visit the Tea Gardens but honestly we were a little disappointed when we reached there. It was just another sub-urb in Nelson Bay and other than a row of seafood restaurants along the ferry terminal, there was basically nothing there but residential houses. We walked across the Hawk's Bridge which took us about half an hour. According to the GPS from Ty's IPhone, it would take us ages to walk to the nearest beach. So we kinda headed back and just plonked ourselves at this restaurant that serves very good seafood! That was the saving grace…To think we almost missed the ferry that morning. The ferry dock was not the usual one where we always went for the other cruises and by the time we asked for directions, it was 3 minutes to 10am. They told us to run and we did. And I was still nursing a sprained ankle that gave way the day before I came to Sydney. We reached the ferry huffing and puffing. We were the last to board.
Early the next morning, after a full hearty breakfast, we left Nelson Bay for Sydney. We detoured a little to make a quick stop at the Medowie Macadaemia Farm where we bought loads of Macadaemias. Ty had been looking high and low for the wasabi flavoured macadaemias which couldn't be found easily in Sydney. And was he delighted when he found them there.

We had a smooth journey and reached Sydney by 2pm. That night, Ty cooked curry with the belachan chilli that he made using my mum's recipe. Yummy! I'm such a lucky gal.

The next few days past by with a flash…we (or rather I) shopped more and TY got me hooked on the book "Last Lecture" by Andy Pausch. I not just read the book…I dripped on it too..guess I'm a real softie at heart. No matter how much I prepare myself when it was time to go, the real thing always leaves a lump in my throat. Its a sucky feeling having to board the plane alone and knowing that it was a separation and not a reunion. Still, in time to come, Ty would be home.